About
WE ARE
FINROCKS
We empower financial technology and reshape the world of digital finance
Led by a team of passionate digital entrepreneurs, Finrocks combines an interdisciplinary team of digital experts and technologists with a passion for financial and blockchain technology. At Finrocks we strive to provide our clients high-quality solutions that are designed and built for the future of digital finance. We support our clients in identifying, implementing and building outstanding technology and in scaling their business through smart technology integrations, lead generation and business development services.
10 years in financial and blockchain technology
With a track record of more than 10 years in financial and blockchain technology, our team provides its clients a universal approach to develop and scale their ideas for being ready for the financial evolution of tomorrow.
Wladimir Huber
Founding Partner & Managing Director

Wladimir is tech-entrepreneur with a focus on FinTech and data driven companies with an extensive knowledge in founding and building internet companies.
He holds a M.A. degree in finance & information technology from Leuphana University. After his studies he worked in consulting and banking.
Alexander Braune
Founding Partner & Managing Director

Alexander is a certified banking professional (German Chamber of Industry and Commerce) and FinTech entrepreneur with strong strategic and business development skills. He is an expert for transforming and scaling digital businesses.
He has more than 7 years of experience in the consulting, banking and FinTech industry and holds a M. Sc. degree in Management from EBS University (Business & Law).
Hayk Kachatryan
Senior Project Manager


Hayk is an experienced IT project manager with +12 years of experience in the financial and banking sector. He holds an Engineering degree and has strong skills in designing multi-facetted technology architecture.
Pascal Haller
Head of Business Development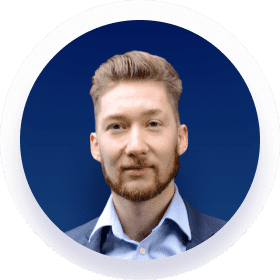 Pascal completed diverse professional experiences in investment banking, law and fintech in Europe and South East Asia. He has more than 4 years of experience in business innovation and blockchain technology.
He completed undergraduate studies at the London School of Economics and Political Science as well as a postgraduate diploma in common law and subsequently enrolled in a MSc in Financial Technology at the University of Glasgow. He fluently speaks four languages
Melina Plehnert
Management Assistant

Melina is a trained tax clerk and through her many years of experience a specialist in the digital industry. For many years, she has combined her accounting and business management skills with the ever-changing demands of the fintech industry.
Kyrylo Kundik
Backend Lead

Kyrylo is an IT specialist with more than 5 years of backend development experience and website reliability. He has won and took part in more than 20 tech international competitions including the biggest hackathon in Europe (Junction), Google Hashcode, and Google Jam.
Vladimir Kvirenko
Frontend Developer

Vladimir is a seasoned developer with extensive experience in managing front end. He loves working with crypto and gives agility to how a backend interacts with front end, be it mobile, web or robotics. He has handled mission critical problems in smart cities, corporate finance, and retail domains. He is passionate about applying innovation in web or mobile, and clean coding is something he takes pride in. In addition to having excellent analytical skills with attention to detail, Vladimir loves working with people in cross-cultural work environments.
Bohdan Vovchuk
Frontend Developer

Bohdan is a goal-driven visionary front-end developer with more than 4 years of sufficient experience. Proven track record of achieving critical business objectives with web applications. He follows best practices and writes clean, efficient, and maintainable code. Bohdan provides the strongest attention to your project details and features. He can bring the knowledge and insights that he has gained during those years into your project to ensure its most efficient delivery.
Ready to
empower

the financial technology of tomorrow

with us

?